Reading Comprehension
On this page are reading comprehension worksheets for beginning to very advanced kindergarten readers. Every page has been carefully created to be sight word rich and correspond to Guided Reading Level C or D. They vary from two simple sentences on each page to five to seven sentences per page. Some have variations in ending punctuation and and/or use quotation marks with multiple speakers. Every section has 18 worksheets with a variety of kid-friendly topics. More grade levels to come in the future.
72 worksheets
CCSS RL.K.1, RF.K.1, & RF.K.4
Go to this page to choose from all our language arts resources.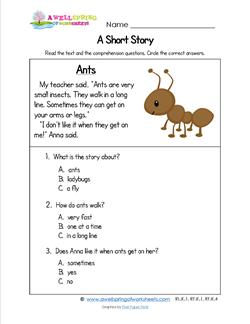 Kindergarten Reading Worksheets
You will find lots of kindergarten reading worksheets on the pages in this section. The worksheets were created to fit into a Guided Reading Level C category: they have 2-5 lines of text, focus on common sight words, are highly supported with pictures, and require text-based answers to the comprehension questions. However, the ways the reading comprehension questions are to be answered varies. In one set children circle the multiple choice answer, in another they bubble in the answer, and so forth. So look at each section carefully to see which one best meets your needs. Or just have fun and browse through all of them!
72 worksheets – 4 levels with 18 worksheets each, in color and black & white. Three of the four sets have answers sheets.
---