Subtraction
The subtraction resources on this page so far include flash card sets for kindergarten and first grade. If you look at each page there are lots of sets to keep you busy learning these facts for some time! All of the flash card sets come in simple black & white and color-coded versions, depending on which suits your needs, or your style! More worksheets are on the horizon in the near future. Keep your eyes open for them.
82 resources
CCSS   K.OA.A.5, 1.OA.C.6
Please go to this page if you'd like to check out all the math resources on this site.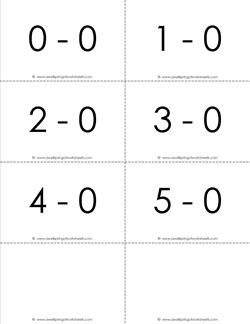 Kindergarten Subtraction
Kindergarten subtraction is all about learning and really getting down subtraction facts through 5. That's a big task when kids start off kindergarten learning their numbers and counting in the proper sequence. Then comes learning how to put those numbers together to make new numbers (otherwise known as adding). Subtraction then becomes the natural progression – learning how to take numbers apart to make new numbers. It is our hope that the resources in this section help your kids become highly successful at kindergarten subtraction.
14 sets of subtraction resources
---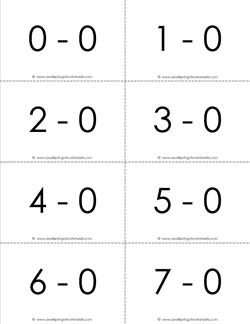 First Grade Subtraction
First grade subtraction is a big step up from kindergarten. In kindergarten kids learn subtraction facts up to 5. In first grade that gets bumped up to subtraction facts to 20! Even though they only need to be fluent in subtraction facts to 10, that's still a lot more facts to factor in. It is our hope that the resources in this section will give your kids the practice and motivation to be super successful at first grade subtraction skills.
68 subtraction resources
---