Third Grade Sight Words
Need some third grade sight words? Here's where you'll find a rich supply. We have both Dolch and Fry words that are appropriate for third grade right here. With nearly 150 words for kids to learn you'll be a busy bee pollinating all your kid's minds with these all-important words. If you print out all flash cards in this section (there's a lot of them), pass them out to all your kids, have them learn them and switch with their table mates, they'll have them down in no time. I know…keep dreaming. Nothing is ever that easy! Hope you enjoy these resources!
36 resources
CCSS RF.3.3d
Go to this page to choose from all the sight word resources on this site.
Third Grade Dolch Sight Words
In this section of third grade Dolch sight words you'll find 41 sight words listed in alphabetical order and frequency of use order. You'll also find a list of 95 Dolch nouns (nouns aren't included in the main Dolch sight word lists). Can't forget about the Dolch phrases. There are lots of them! These resources come in the form of lists and flash cards, lots and lots of flash cards! Orange is the color for second grade Dolch words, but we also have lots of seasonal themes, too.
28 resources
---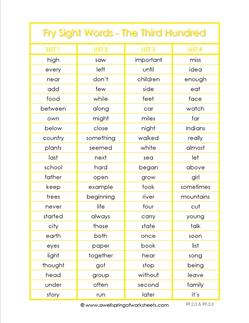 Third Grade Fry Words
Our third grade Fry words resources come color-coordinated in a bright yellow. You'll find the list of the third 100 Fry words and a matching assessment sheet. Have the kids read the words from the list while you track their progress by checking off the words they know on the assessment sheet. The Fry phrases – the third 100 – uses words from the third grade list in common phrases used in everyday language. We have flash cards for the words on the Fry list and the phrases.
7 resources
---