First Grade Sight Words
Our first grade sight words include Dolch sight words and Fry high frequency words. Even though some of the sight words appear on both lists, if you include the Dolch nouns, that's well over 100 sight words for kiddos to master in first grade! So get out those flash cards (of which we have many!), and start your daily practice. Check off the kid's progress on the assessment sheets. Practice the sight word phrases, too. You might even want to play sight word bingo for a bit of fun!
36 resources
CCSS  RF.1.3.g
Go to this page to choose from all the sight word resources on this site.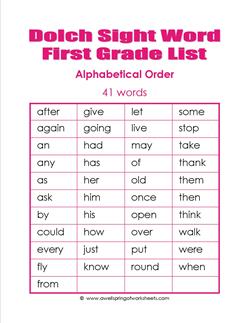 First Grade Dolch Sight Words
The resources in this section are specifically targeted first grade Dolch sight words resources. There are 41 words that have been deemed appropriate for this grade level for kids to learn by sight. To add to those are a list of 95 Dolch nouns kids can work toward mastering in first grade as well. In this section you will also find a list of 150 Dolch phrases – groups of words that are commonly used together – that kids may be familiar with. You'll also find tons of flash cards, some nice and plain, and some prettied up.
29 resources
---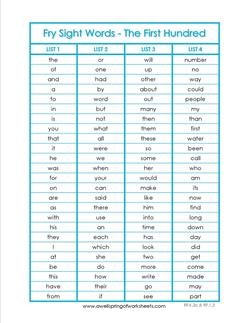 First Grade Fry Words
Our first grade Fry words come color-coordinated in a pretty blue. The Fry list of the first 100 Fry words is actually meant to be divided into two parts. The first 50 words are recommended to have been learned in kindergarten, and the second 50 words in first grade. So by the end of first grade, all 100 words should be memorized. You will find a list of these words and an assessment sheet, too, to track your kids progress. The first 100 Fry phrases (or short sentences) use the Fry words as we use them in our daily communications.
7 resources
---