Awareness of Print
The awareness of print topics that we cover in this section include the basics of how print works. For example, we read from books that have a front cover, back cover and a spine that holds them together. The pages of a book are turned one at a time so the story makes sense. There are big words and small words and we can use our counting skills to count how many letters are in words. Letters come in different shapes and sizes that we can categorize. You will find tons of resources here to help you with your lessons about awareness of print.
47 resources
CCSS  RF.K.1 & RL.K.6
Please go to this page to choose from more resources for concepts about print.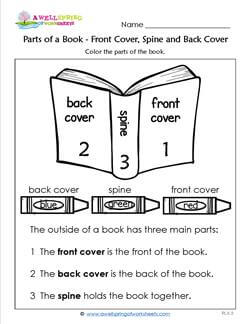 Parts of a Book
The parts of a book are just as important as the book itself. We often teach kids from books without thinking about the parts of the book we are teaching them from. Take some time to teach your kids these important concepts. The main points covered in these resources are the front cover, back cover, spine, the pages, how to turn the pages of a book, the title page, title, picture (or illustration) and a few page about authors and illustrators. You will also find two sets of Parts of a Book Posters – one in rainbow polka dot colors and one with a simple black frame. There are also two sets of vocabulary cards – one with the words only and one with images. These pages, vocabulary cards and posters were meant to supplement your oral teaching and visual modeling of of these book parts.
16 worksheets, 2 sets of vocabulary cards, 2 sets of posters
---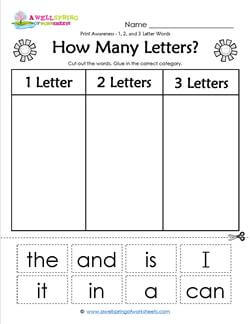 Print Awareness - How Many Letters?
Print Awareness encompasses many different forms. This section of resources focuses in on the fact that we put letters together to make words. Some of those words are big words (have more letters and letter sounds) and some words are smaller (have fewer letters and fewer letter sounds).  Kids can get lots of vocabulary and counting practice by counting how many letters are in each word. There are two kinds of worksheets on this page: cut and glue sorting worksheets and counting worksheets. You'll also find lots of pocket chart cards and word strips. All these resources are based on animal words, number words, color words, Dolch preprimer words, and Dolch nouns. All have the same objective – how many letters are in each word.
16 worksheets, 5 sets of pocket chart cards, 5 sets of word strips
---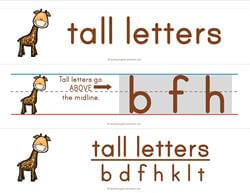 Print Awareness - Tall, Small & Fall Letters
This section of print awareness resources focuses on the terms "tall, small and fall letters". They refer to which part of the primary writing lines the letters touch or don't touch. Using these categories helps kids to see there are three kinds of letters and brings a little more order to how they think about them.  Though not necessarily a standards-based concept, tall, small and fall letters make learning letters a lot more fun! Each type of letter is represented by an animal – a giraffe represents the tall letters, a turtle represents the small letters, and a monkey represents the fall letters. Be sure to scroll all the way down to see all the pocket chart cards, worksheets, and a set of sorting strips.
17 resources
---