Alphabet Printables
The following pages of alphabet printables are full of fun and enjoyable teaching and learning resources for the alphabet. As everything else on this site, these resources are easy to print. Many of them come in color as well as basic black and white. At this time we have a great selection of alphabet flash cards, some awesome things that start with a-z cards, and six sets of alphabet matching cards. I hope you are as excited about teaching the alphabet as I am about creating these resources for you!
38 sets of printables
CCSS  RF.K.1.D, RF.K.3.A & RF.K.3.B
Go to this page to choose from even more alphabet resources.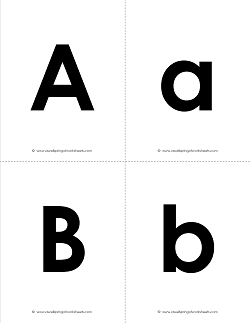 Alphabet Flash Cards
Have we got some alphabet flash cards for you! As a matter of fact we have six different sets. We have four sets of basic black and white and two sets of color alphabet flashcards. Some have big bold letters, some have letters on primary writing lines, some have pictures and one set has picture words. Hopefully, one (or two or three!) of these sets will be just what you're looking for. Print on cardstock for longer lasting cards and cut along the light gray dashed lines.
6 sets in color and black & white.
---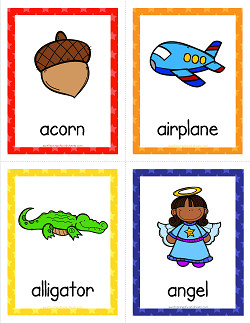 Things that Start with A to Z Cards
With bright, happy pictures, these things that start with a-z cards are meant to help your kids start on their journey of noticing words that start with letter a, b, c, etc. Each letter set comes with eight pictures with the object name. A title card, two cards with the pictures and their names in smaller print, and a card with only the words are included. Print on cardstock for longer lasting cards. Cut on the dashed lines and enjoy!
26 sets, 3 pages each.
---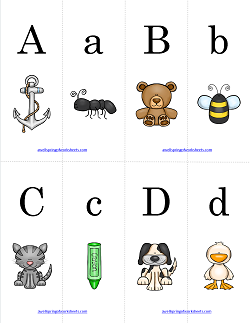 Alphabet Matching
Warning! Alphabet matching fun ahead! With six sets to choose from, kids are sure to have a fun time getting to know their alphabet letters inside and out. Simply choose the set (or sets) you want and print them out. Cardstock is recommended for longer lasting cards. Cut them along the lines and you're ready to go! Simply have your kids match the uppercase letter to the lowercase letter. Each set (except the basic black set) comes with a handy box you can put together to store the cards in.
6 sets of cards
---