Valentine's Day Worksheets
Our Valentine's Day worksheets can be lots of fun on and around the special day of love – February 14th. With hearts all fluttering about and posted on classroom walls, kids excited to pass out and open their valentines, snacks in red an pink awaiting, these resources are sure to fit right in. Whether you're looking for valentine reading or math resources, we've got something that's sure to benefit your lessons. If you're interested in social studies, we've got a few items that use conversation hearts!
22 resources
CCSS  K.CC.A.3, K.CC.B.4, K.CC.B.5 & LK.1.A
Go to this page to choose from even more holiday worksheets.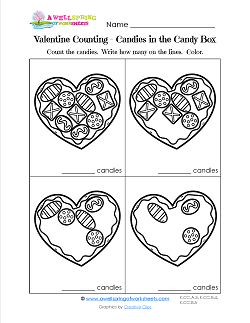 Valentine's Day Worksheets for Kindergarten
We've got a good start to our Valentine's Day worksheets for kindergarten section. You'll find some kindergarten reading worksheets and kindergarten math worksheets, all with a twist of hearts and love to fit into this Valentine theme. The reading worksheets include filling in the alphabet as well as a thorough set of vocabulary cards. The valentine math section has some counting worksheets and some patterns worksheets. The graphing worksheets make use of conversation hearts and their love sayings. Use the actual candy or the conversation hearts cards provided.
22 resources
---