Second Grade Sight Words
If you're like me, you like to have your lists to check off. It gives me a feeling of satisfaction and completion. In this section you will find two lists of second grade sight words, Dolch sight words and Fry high-frequency words. Between the two of them that's about 150 words it's recommended your kids learn by the end of second grade. However, with your curriculum added to these, your kids will come out far above that number. Just remember, numbers aren't the goal. Fluent grade level appropriate reading is. Hope these resources help!
34 resources
CCSS  RF.2.3f
Go to this page to choose from all the sight word resources on this site.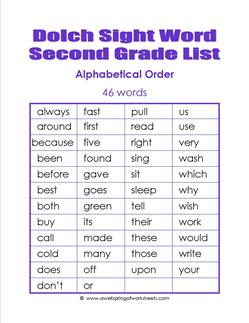 Second Grade Dolch Sight Words
In this section of second grade Dolch sight words you'll find 46 Dolch sight words listed in alphabetical order and frequency of use order. You'll also find a list of 95 Dolch nouns (nouns aren't included in the main Dolch sight word lists). Can't forget about the Dolch phrases. There are lots of them! These resources come in the form of lists and flash cards, lots and lots of flash cards! Purple is the color for second grade Dolch words, but we also have lots of seasonal themes, too.
28 resources
---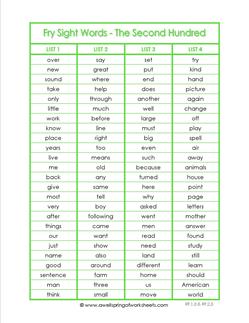 Second Grade Fry Words
Our second grade Fry words resources come color-coordinated in a nice bright green. You'll find the list of the second 100 Fry words and a matching assessment sheet. Have the kids read the words from the list while you track their progress by checking off the words they know on the assessment sheet. The Fry phrases – the second 100 – uses words from the second grade list in common phrases used in everyday language. We have flash cards for the words on the Fry list and the phrases.
7 resources
---